At Dar Kai
we know your valves inside and out!
At Dar Kai we specialize in valve maintenance and repair. We are Canadian owned and founded, our headquarters are located in Drayton Valley, Alberta. We are proudly serving the oil and gas industry in Canada and abroad. Our team is ValvePro Certified and fully equipped with up-to-date equipment and custom tracking software to ensure you receive the best service possible right on-site, as well as real time Valve Reporting online.
Our service goes well beyond just getting the job done right. Our professionally trained team goes to every site with the value-added support of our custom valve software. That is made to track all data pertaining to your valves and provide real-time solutions.
V-Trax

Custom Valve Tracking Software

Our V-Trax Custom Valve software tracks the performance and servicing of all our valves.
Our exclusive software enables us to provide a level of service that no other valve servicing company in the world can provide. While most valve servicing companies are called onto a site when a problem occurs, our valve serving software enables us track your valve's performance, view trends, and follow a servicing schedule. By providing preventative maintenance we are able to reduce Valve failure before it becomes an actual issue.
24/7 access to your valve reports
Tracking and monitoring your service cycles (life time of valve)
Provide notification when maintenance services are due
Educate on what applications certain valves work best in and how to prevent issues
We track all information in real-time and keep you informed of any trends or complications that might arise
Get the
right information,

at the

right time

to make the

right decisions.
ValvePro

Certified Technicians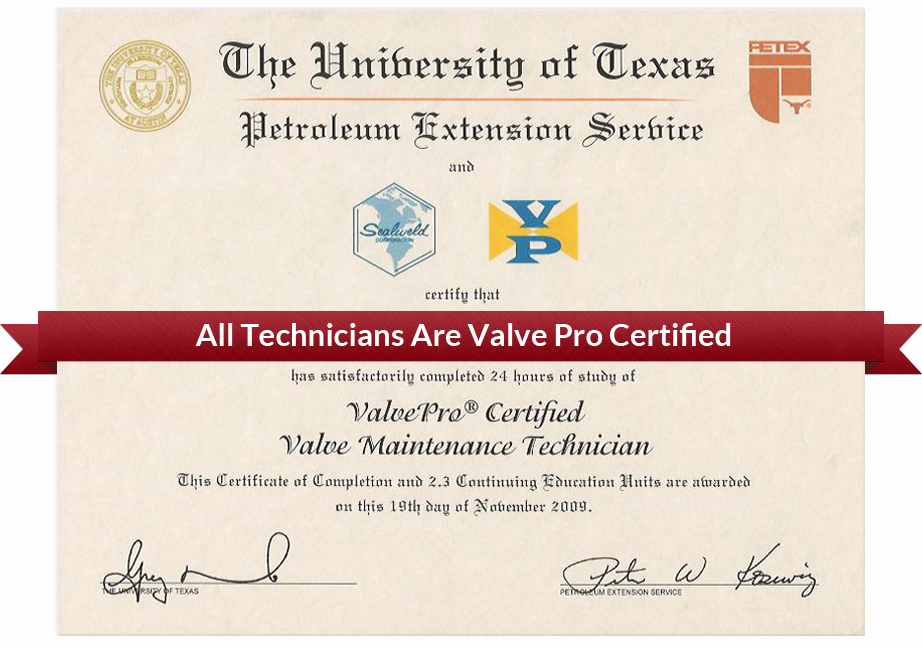 Professional service is a top priority at Dar Kai. In order to ensure our clients get the best service, all Dar Kai technicians are required to complete the ValvePro Certification through the University of Texas which offers professional training for the oil and gas industry that is recognized by PETEX (Petroleum Extension Services).

Continuing & Innovative Education
Global Learning Solutions for the Oil and Gas Industry
Training recognized by PETEX, the leading producer of training content for the Oil and Gas industry.
Additional
Dar-Kai E-Brochure
Our Brochure is chock full of information on everything related to Dar-Kai. It is now in a digital format that can readily be printed off.